Went really French on you, didn't I? But you're used to that. Translated, it means my house and my job. Because, dear readers, after a month in my new surroundings, I'm happy to announce that I was recently hired at a new job and recently moved into my brand new apartment. We will pause for celebration.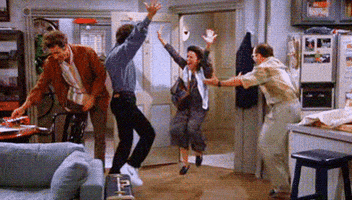 Needless to say, I was anxious about these two things. Initially, I was staying with a kind, hospitable friend who allowed me to rent a room in her home while I figured out where I was going and what I was doing. My plan wasn't to stay with her for eternity, so there was that particular anxiety. The kindness of others is always welcomed, but I also didn't intend on overstaying my welcome. Secondly, since Idris hasn't yet arrived with our marriage license and the key to our villa, your Square Peg needed a job.
The good things: a recruiting firm that I contacted early in the year, once I firmly decided on moving, was still quite open to helping me. Also: my car afforded me the chance, on days I wasn't interviewing, to drive around and visit apartment complexes in the area. So after a few weeks of interviews and conversations with potential employers, and visiting an inordinate amount of complexes, and lots and lots of prayer…
Enter ma maison and mon travail. Again, let us celebrate. Ma maison. I live in a nice, simple 1 bedroom place in a Dallas suburb. (I would be more specific, but…nope.) It's quiet, save for a Chihuahua that occasionally has something to say, but he's largely silent. As far as furniture, I have a bed and a very comfortable armchair. So you can imagine all the Pinterest decor boards currently overflowing with all the ideas I have for the remainders of furnishings and decorating to come. I'm a simple Square Peg: I basically want ma maison to look like Paris on a weekday. Lovely, uncomplicated, filled with croissants. Updates and photos will come.
Ma travail. It's my third day at this new environment (a direct hire via that recruiting firm, yay), so everything is still minty and fresh and new. Nevertheless, my colleagues have been great so far and I'm acclimating well. Of course, the same Norse gods that secretly lived in my cubicle at the old OK Corral and blew icicles in the air apparently followed me here (search under "cold" to learn about my inability to stay warm; according to my mother, this is why), which resulted in purchasing a space heater and walking these halls draped in my usual scarf. But c'est la vie. I'm hopeful for this new professional path.
So here we are. Living on my own once again (it's been twelve years since I had my very own place) and starting fresh with new employment. Onwards and upwards…
Oh, you want to celebrate again? Let's.